A Guide to Betting on Goals in Football
One of the biggest changes in football betting has been the growth of markets that allow us to be on goals to be scored in a game. Gone are the traditional days where you would have to choose a team to win the game, now you can bet on anything and everything when you are watching the big game. Of all the additional markets that have been created, the markets surrounding goals have been the big hits with punters, and it is easy to see why. When you are watching a football game you want to be entertained, goals give entertainment so as well as seeing your bet win, you are also really enjoying the game.
There are two main ways to bet on goals in football, and neither requires you to select the winner of the game. You can win your bet regardless of which team wins, or even if the game is a draw and that is why so many people are drawn to these bets.
Both Teams to Score Betting
The both teams to score market has quickly risen to become a hugely important betting market for many people. The market is very simple to you, all you are betting on here is will both teams score a goal in the game? As a neutral watching a live football game, choosing yes will give you something very entertaining to cheer on, and as long as both score you win. The game could finish 6-1 to the favourite, or it could end in a thrilling 3-3 draw, it doesn't matter because both teams have scored and therefore you have won.
Being a two way market, you are never going to get huge odds on both teams to score betting, but there are some great stats out there to help you work out which teams are the most profitable. This should allow you to make the correct decisions when you are choosing which teams to back on this market.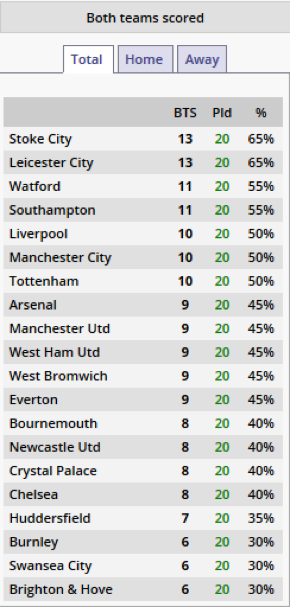 The above table from SoccerStats shows how often the Premier League clubs have been involved in a game where both teams have scored a goal. If you look at the top, you will see that both Stoke and Leicester have been involved in 13 games this season where both teams have scored. A game against those two teams would be a great bet for both teams to score.
Looking at the opposite end, Swansea and Brighton are at the bottom of the table, with just six of their games seeing goals for both teams. Should these two play each other, the chances of both teams scoring look highly unlikely based on the recent stats.
The both teams to score market is a fun market to bet on, and one that will give you an interest in a game that you are watching. By using the available stats you can look at what teams have been involved in games involving goals for both teams and that will point you in the right direction. If you use everything that is available to you, and you bet on the right games then your betting will be more profitable because of that.
Over/Under Goals Betting
The second way to get involved in goals betting is to use the over/under goal lines that are available with the bookmakers. The most common market is the 2.5 goal market, here you bet on whether or not there will be more than 2.5 goals or less than 2.5 goals. Again, just like the both teams to score market, this is a way of backing on a game to be exciting, without backing on the game-winner and you can win on this market regardless of the game outcome.
As you are betting on a two way market, the odds on offer are not huge, but by using different lines you can increase the odds. For example, backing over 3.5 goals will be a far bigger price than backing over 2.5 goals.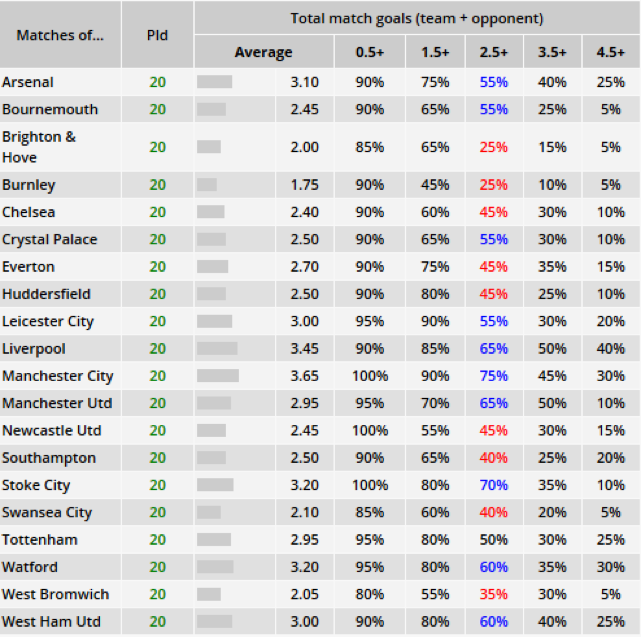 The above table is again from SoccerStats and shows each Premier League team and how often they have been involved in games that have had over a certain amount of goals. Using the table above and the standard 2.5 goals line, you will be able to see that Manchester City have had 75% of their games with over 2.5 goals, and Stoke have had 70%. A game between these two would be the ideal game to bet on over 2.5 goals.
At the opposite end, Brighton and Burnley have seen over 2.5 goals in their games just 25% of the time, and these two playing each other would not be a good game to back on over 2.5 goals. By using stats like this you can put together a list of teams you would like to back, and those you wish to avoid when betting on the over 2.5 goals market. When your chosen teams play each other, the stats indicate it is a very good game to be betting over 2.5 goals.
In Conclusion
Betting on the goals markets that are available is a great way to have an alternative bet on the football. When you are using these markets, you do not need to worry about who is favourite to win the game, or which team will come out on top, your only concern is the goals in the game. From backing on both teams to score to backing there to be a certain amount of goals in a game, you can bet on pretty much anything you like. StakeHunters recommends to start your football betting journey at Betfair, as they give tons of goal markets with best odds and is one of the most respected and reliable bookmakers.
If you are looking for a fun way to get involved in a televised game you are going to watch, or you simply want to change the way you bet then make sure you take a look at the goals markets on offer. With the use of stats, you can find your feet quickly and pick out some bets that should prove to be profitable selections, with the stats in your favour.