NCAA

The National Collegiate Athletic Association are known for being the presiding organisation over any and all college sports across the United States of America. However, while many of those sports receive notable coverage on a week-by-week basis, there's one that stands out above the rest as the primary source of entertainment for many fans around the world - basketball. There are three main leagues involved in the NCAA format of the game: Division I, Division II, and Division III, with the former of those three being the most notable.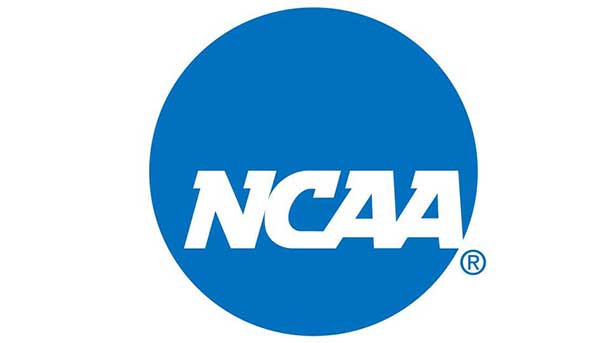 The other two divisions possess a series of unique conferences in which many teams around the US compete. They serve as the equivalent to the Championship and League one in the world of English soccer, in that many players who compete in II and III have dreams of one day playing Division I basketball. In many cases they do eventually get that chance, transferring over from one school to another following their first or second year of college. However, that isn't always what happens, and some players who receive scholarships out of college won't necessarily all end up going to play for a major college team. In fact, that can actually be quite rare, and sometimes it is all about the decisions that are made by these young athletes.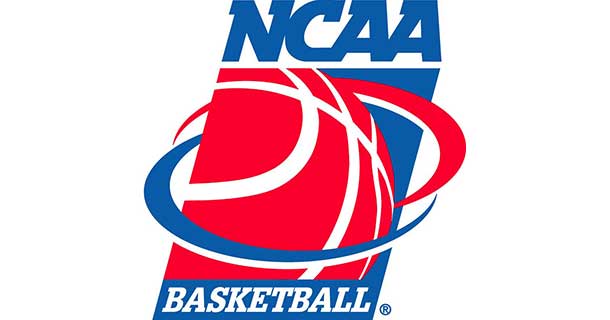 For a more precise look into the elite world of NCAA basketball, we'll be focusing most of our attention on Division I. Back when things were first starting to take off for the game at this level, several schools played as independent teams as opposed to having a specific conference assigned to them. Either way, this is an extremely different set up to the National Basketball Association aka the NBA, whereby all 30 teams play under one specific banner. When it comes to college, however, there's a lot of red tape that can often confuse fans as to which team plays where - especially for non-Americans who aren't entirely familiar with the system.

The one element that changed all of this was something that also altered the realms of many forms of entertainment: television. The introduction of televised college sports in the 1980s meant that several new conferences were formed, and many new places were also opened up in the traditional conferences. For the recent 2017/18 season, these were the following conferences in play: America East, American Athletic, Atlantic 10, Atlantic Coast, Atlantic Sun, Big 12, Big East, Big Sky, Big South, Big Ten, Big West, Colonial Athletic, Conference USA, Horizon League, Ivy League, Metro Atlantic Athletic, Mid-American, Mid-Eastern Athletic, Missouri Valley, Mountain West, Northeast, Ohio Valley, Pac-12, Patriot League, Southeastern, Southern, Southland, Southwestern Athletic, Sun Belt, Summit League, West Coast and finally Western Athletic. Over 350 schools compete in the conferences, which also partake in women's basketball in which the same rules apply regarding the structure.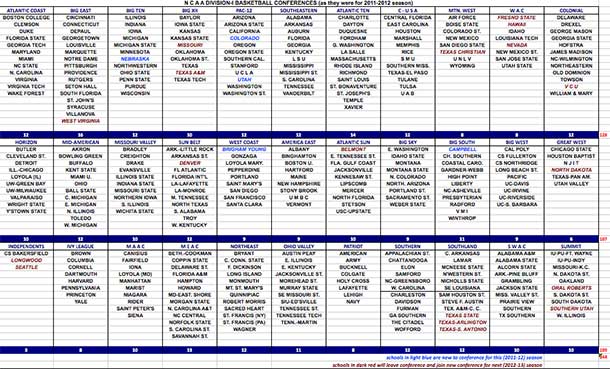 Of course, while many teams battle it out during the regular season, they all have one goal: to make it to March Madness. The official title for the event is the NCAA Division I Men's Basketball Tournament, but as we all know, fans around the globe will always know it to be March Madness. The three-week-long spectacular features 68 of the very best college basketball teams, with 32 champions from the conferences included alongside 36 who are chosen by the NCAA selection team. The day in which they're chosen is often dubbed Selection Sunday, in which teams around the nation discover whether or not their season is going to come to a premature end.

All of the teams are separated into four regions, and from that point on, all hell breaks loose in the form of a single-game elimination tournament. From the First Four all the way through until the bitter end, #1 seeds take on #16 seeds, #2 seeds take on #15 seeds and so on and so forth. The games are played at various locations around the US, until eventually, once we're through the Sweet Sixteen and Elite Eight, we get down to the Final Four. These are where the last four teams remaining at the semi-final stage travel to a pre-determined host city, and compete in the semi-finals and eventually final which takes place inside of an NFL-size stadium.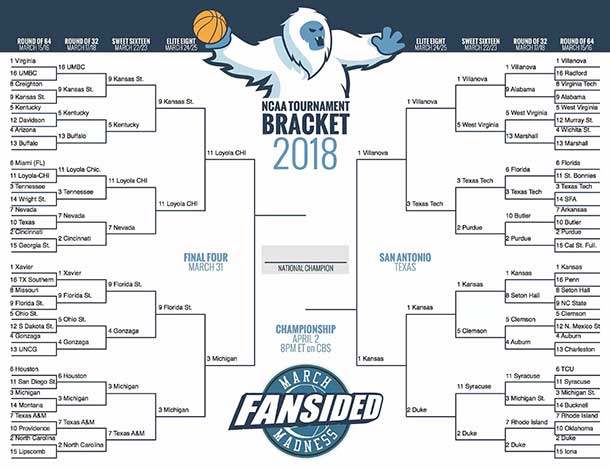 These games are often broadcast on CBS, TBS, truth and TNT, with millions of people filling out a bracket - in which they try to predict the outcome of every single game in the tournament. Various celebrities have done this over the course of the tournament's existence, with President Obama also taking part a few years back. In terms of the greatest teams to compete in the tournament, UCLA takes the honour of having more March Madness championships than any other school with 11. Kentucky, North Carolina, Duke and Indiana all follow suit, and beyond that, there are a series of teams who are known for regularly reaching the latter stages of 'the dance'.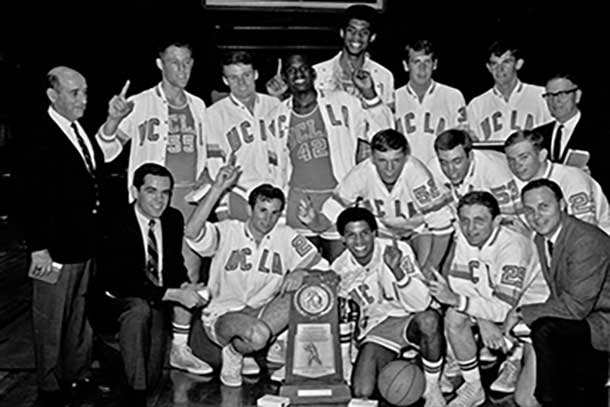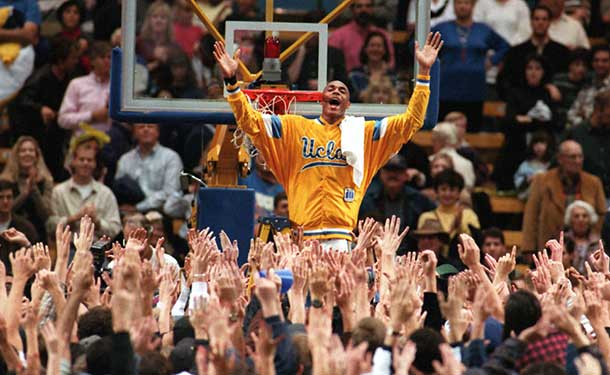 The beauty of the NCAA Tournament rests in the fact that anything can change at any given moment, and on top of the many Cinderella stories that occur each and every year, there are also often some dramatic buzzer beaters. Two such examples occurred just six years apart when Butler missed a potentially game-winning shot in the 2010 Championship Game against Duke - and in their own stadium, no less. Two years ago, however, Kris Jenkins wrote his name into basketball folklore with a last-second buzzer beater that gave Villanova the victory in a 77-74 triumph over the North Carolina Tar Heels.

The legacy of March Madness will run forever, and beyond that, many great players have given their all from the regular season all the way through until the final stages. Oscar Robertson led Cincinnati to four straight appearances in the Final Four, Wilt Chamberlain began his tremendous basketball legacy with Kansas, Christian Laettner created history with Duke, and that's only the start of it. Bill Russell (San Francisco), Bill Walton (UCLA) and Lew Alcindor aka Kareem Abdul-Jabbar (UCLA) were all pioneers of the game at this level, and as the years go on, many more names will join them.