Understanding Outright Football Betting Markets
Betting on outright football markets before an event kicks off is very popular and there are many different ways in which you can put your money down. If you are a punter who sticks to betting on matches and doesn't look at these markets then you may be missing out on some real value. You can bet in this way on either a league or a tournament, so be sure to take a look at what is coming up and the betting opportunities that are available to you.
Outright League Betting
Alongside betting on your favourite leagues week in week out, you can also place a number of bets before the season kicks off. There are many different markets that you can take advantage of, allowing you to bet in a different way to what you normally would.
To win the league
If you have a team that you think will do well in the upcoming season then alongside backing them to win their games, you can also back them to win the league outright. In leagues where multiple teams look capable of challenging, you have the chance to back your selection at a big price, so this market can often give great value.
When betting on someone to win the league you can also bet each way. This sometimes takes into account the first two places but can be the first three places in more competitive leagues. If you are betting in a league that has promotion and playoffs to see who gets promoted it is important to note that betting ends at the end of the season, and doesn't include the playoffs.
To be promoted
If you want to include the possibility of the playoffs in leagues where promotion takes place, then you can back a team to be promoted instead of backing them to win the league. It doesn't matter how they are promoted, they can go up as winners or through the playoffs, as long as they are promoted to the next tier in some way.
To be relegated
If you are looking to oppose a team during the season then often the best way to do so is to use the outright football betting markets. If you have picked out a team that you think will struggle during the season then you can back them to be relegated from their division. If you are going against them in individual matches then you have to cover both the draw and opposing team win, whereas just one bet before the season begins will ensure you are against them for the full season.
Top half/bottom half
If you have an opinion that is very different to other people about a team then you can back them to do well, or do poorly. This uses two different markets, for teams you think will do well you can use the market where you bet on teams to finish in the top half of the table and for teams who you think will be poor, the market for a bottom half finish. For example, if you think a top team will struggle, back them to finish in the bottom half, or if you have a small team doing well, back them to finish in the top half. By betting in this way you are giving yourself something that lasts a full season at a good price.
Outright Cup Competition Betting
When it comes to betting on outright cup competition there are other markets that are specific to cup football that you can take advantage of. These can be surrounding the group stages that are played in a competition, or how far a team will get.
Group Betting
A lot of cup competitions begin with a group round where teams play each other and the top one or two teams qualify for the next round. These groups give you the ideal betting platform, and there are many ways in which you can use these to your advantage.
The first and most basic option when betting on groups is to bet on a team to win the group. This is as simple as it sounds. You need to choose a team who will win the group. Alongside this you can back a team to qualify from the group, so they don't have to win they just need to get into the next round. The final option for betting on groups is to bet on who will finish bottom of the group, this is great if you are against a team, or you are looking to oppose someone in a tough group.
Elimination stage
If you think a team will perform well in a tournament but you are not quite sure they can win it then you can back them to be eliminated at a certain stage, and these bets can often be placed at big prices. For example, you can bet on a team to be eliminated at the semi-final stage of a tournament if you think they will do well, but not win the whole event.
Player Betting
If you want to place a bet on a player rather than a team then outright football betting markets can also offer you this opportunity, both for a league and a cup competition. The most common way to do this is to place a bet on a top goal scorer, and as the name suggests here you are betting on a player to be the top goal scorer in their league or cup.
Elsewhere, there are player of the season markets, alongside player of the tournament markets to look at and here you can bet on your favourite to pick up a prestigious award. This can be your favourite player or one you think will have a great season, but it is an alternative way to place football bets, and because they cover the whole tournament/season you can put one bet on, then sit back and watch the action unfold.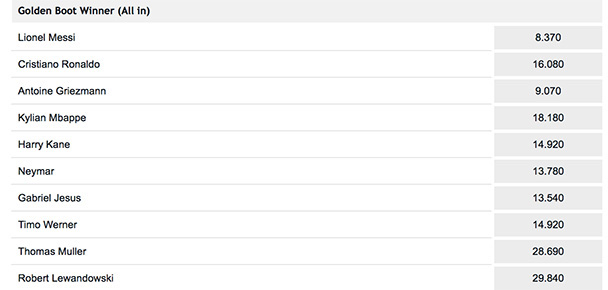 These are the odds for World cup 2018 Golden Boot Winner from Pinnacle and for StakeHunters football experts, Thomas Muller @28.7 certainly looks as a value bet. Just remember, be reasonable - Player Outright betting has many variables and should be mostly treated as recreational bets.