Norway Basketball

When you think of Norway, the majority of us don't even think of sports at all - and if we do, it's rarely anything team-related. From the Vikings, all the way down to the strongmen there's a great deal of 'power' stereotypes associated with the Norwegians, and funnily enough, these traits can often be put to good use in aforementioned 'team sports' such as football. Beyond that, though, as is the case throughout Europe, physicality is one of the key techniques required to implement yourself amongst the elite teams in one sport in particular: basketball. While they may not be the most imposing of national teams, they've certainly adopted the plucky underdog tag, and the same can be said of their national top tier: also known as BLNO.



Despite never seemingly aspiring to be a basketball nation, there's clearly an interest there with Norwegians (and some Americans) coming together to ply their trade in the BLNO. The division itself has only been around since 2000 and has undergone a series of facelifts in that time, making it difficult for some to truly recognise it as an elite European league - which makes sense because it isn't anywhere near that level. It's common knowledge that their Scandinavian counterparts, Sweden, have a relatively poor league in the form of Basketligan, but it speaks volumes about the Norwegian game right now that the Swedes are still head and shoulders above them. With that being said, there's always room for improvement, which is something that they clearly believe in.


The most recent season of BLNO action concluded on April 11th, and it featured a relatively standard format and structure - with an ever so slight twist. Ten teams took part in the campaign that was organised in a round-robin sort of way, with every single team playing everyone else at least once at home and at least once away from home, with an eventual total of 27 matches when you include an unusual THIRD set of fixtures. As is usually the case there's a playoff system used to determine the Champions of Norway with eight of the ten teams qualifying, and unsurprisingly, the 10th place team is then relegated due to their poor performances. The quarters, semis and finals themselves all follow a pretty consistent format, too, with each being a 'best of three' which has recently been introduced after years of the final itself only being a one-off 'do or die' game.

As is often the case the quality of the teams involved in the league varies from top to bottom, although there's not quite as much of a 'gap' so to speak as there is elsewhere in Europe. Even the side who finished 9th last season managed to win eight games, and when you think about it, that isn't all too far off of the 24 that the regular season leaders managed to accumulate for themselves. In terms of location, the majority of teams are located in the south of Norway, with Tromso Storm being the only major northern side. The other nine teams who participated in the 2017/18 season are Asker Aliens, Kongsberg Miners, Fyllingen, Gimle, Baerum, Froya, Ammerud, Nidaros Jets and Centrum Tigers who were unfortunately relegated with just one win to their name.



Consistent success is something that's often hard to find in this league, and while Asker Aliens have dominated at times with the majority of championship victories going to them, other sides have managed to have their moment in the sunshine. The winners of the most recent campaign were Kongsberg Miners, who overcame the odds in the finals against Asker to claim a commanding 83-68 win in the decider. The Norwegian Cup certainly offers teams with less of a chance to succeed in the league another chance at glory, too, which isn't a system all too many teams enforce. Of course, that could be due to the fact that they have their own EuroLeague connections, but perhaps in time, that'll be something that Norway as a nation can build towards.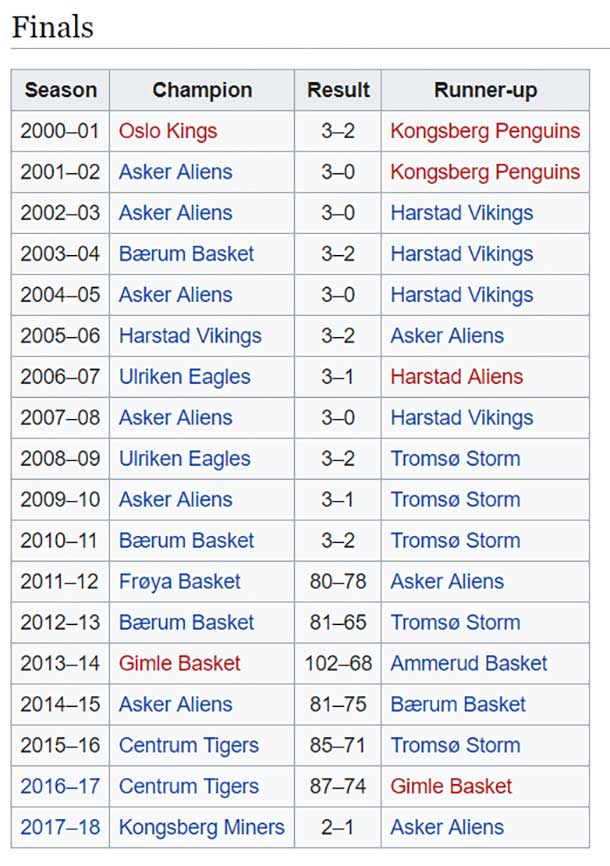 While he may not have had an immediately obvious impact on the BLNO specifically, there's no doubting the fact that the most notable and successful Norwegian basketball player of all time is Torgeir Bryn. The Oslo-born 6 ft 9 sensation is known for being the only Norwegian in history to play in the NBA, enjoying a brief spell with the Los Angeles Clippers back in 1989. On top of that, though, he made his long-awaited return to the Norwegian game at the ripe old age of 43 when he played for hometown club Ammerud alongside his son of all people. Bryn is the benchmark by which all future players from Norway should measure themselves because through determination alone, he was able to rise further and higher than anyone could've anticipated.


The Norwegian national team themselves are ranked at 118th for a reason, and despite joining FIBA back in 1968, they have yet to show the kind of remarkable improvements that would make them a powerhouse in Norway. In fact, they hold the distinction of being one of Europe's most populated countries to have never qualified for one of the major international tournaments. That includes EuroBasket, the Olympic Games and FIBA World Cup, however, they did manage to reach the finals of the FIBA European Championship for Small Countries this year. While the name may not be so catchy, the fact that they only lost out to Malta in the final game showcases that there may be some signs of life left in them yet.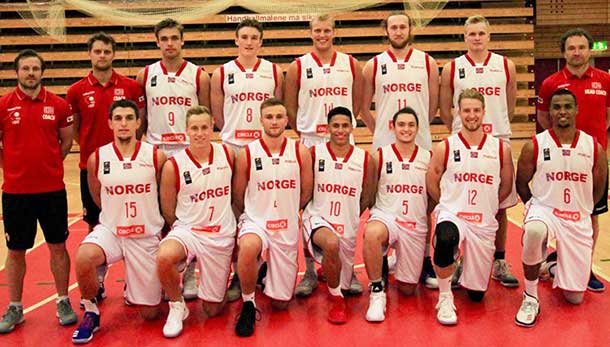 There are clearly plans in place for some kind of notable expansion over the course of the next few decades, because otherwise, what would the BLNO really be aiming towards? A more professional and well-rounded league featuring some up and coming elite stars should be on the horizon, although it is worth remembering that BLNO is not even 20 years old at this stage. They're still new and they're still somewhat fresh in this game, but the Norwegians need to find a way to appeal to a wider audience. There are diamonds in the rough here, and they just need to learn how to utilise them.