Advice 1: Find the edge
The main aim in sport betting is not to predict who will win, but to predict more accurate than the bookmaker. In the market you will find many bets, where you know that one team will be favourite. But bookmakers know this too and they give low odds for such markets. So usually in the long run you won't be able to make money on such bets. You need find some specific areas or spots, where you can guess outcomes better compared to most bookmakers, or as it called, to find the edge.
Advice 2: Have a plan
Now that you know where you are the strongest, you need to make a plan. Write it down, point by point. What sports will you bet, what leagues and exact types of bets. When will you bet, how you will manage your money etc.
For example: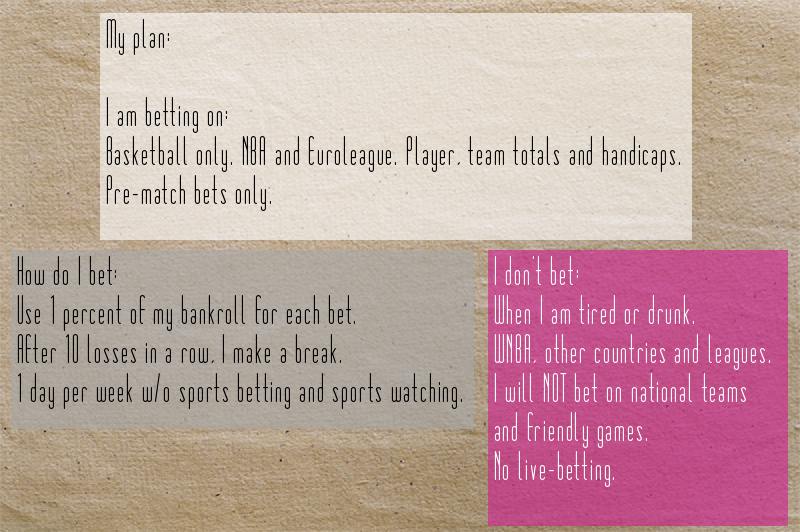 Advice 3: Stick to the plan
It is fairly easy to make a good plan, but it is even easier to not stick to it. So what is the point of your plan, if you won't stick to it? To make things simple, you can put it in front of you, write down and put it on the wall/wallpaper in front of you. Each time you want to make a bet, check it with your plan. Will this bet be made according to plan? And so it goes: NBA? Totals? Pre-match? You are not drunk? Not tired? This way you will be more disciplined and it will be easier for you to create some kind of a routine to help you with consistency.
Advice 4: Patience
It is easy to give advices about being patient, emotionally stable and so on, but one thing is true – we are all human and we all have our ups and downs. You have to work with yourself and keep learning, because some things are much easier in theory, than they are in practice. That said, patience is one of the main keys to your success and if you able to learn from others' mistakes and have enough patience to avoid some yourself, you will have a much better chance to become successful bettor and tipster.
Advice 5: Keep learning
As in any other job or activity, to be better than others, you have to keep elevating your level. You just can't stay in your comfort zone, because one day you will find yourself behind and wonder what happened. As all things progress, so is sports betting. Only way to compete is always staying up to date, keeping learning from various resources and giving your best effort to find the edge against bookmakers.
Free tips, odds, the best tipsters and advices. Join us and be part of The StakeHunters Community!