One of the fastest growing industries – eSports – often fascinates with huge pay checks for top players. The improvement is clear every day, therefore many companies decide to invest in this new ground.
Increasing popularity of eSports (a.k.a. electronic sports, competitive (video) gambling, pro gaming) basically forced bookmakers to offer a chance to bet on final results of video games.
At StakeHunters we understand how big the industry is and how current projections may turn out to be true. In this particular case eSports can become one of the major competitions not only in sports but in betting as well. We can highlight the fact the gaming is being considered addictive and there are institutions which provide rehab specifically for gamers.
Before we dive any deeper, let's take a look at what it is.
eSports – a professional way to play computer games
Since computer games became affordable by the majority, the most of us at some point of our life had played one game or another. Some people even spent majority of their days playing these games and it seemed like a total waste of time. However, these days playing computer games all day long can be your ham and bread, your full time work which provides a decent pay.
Professional players team up and play multiplayer games in various tournaments and competitions all around the world. Genres associated with eSports usually are first-person shooters (FPS), real-time strategy, fighting, multiplayer online battle arena (MOBA) etc.
Multiplayer games were popular long time ago, but until now it was an amateurish gaming. eSports took it another level higher and introduced arenas with huge screens and spectators which made gaming like a true (physical) sports event.
In the past years games that got the most professional attention were Dota 2, League of Legends, Counter-Strike: Global Offensive, Smite, StarCraft II, Call of Duty, Heroes of the Storm, Hearthstone, Overwatch.
Online streaming platforms like YouTube and Twitch give a free access to anyone willing to spend their time watching others compete. The biggest games attract millions viewers from around the globe. Actually, in 2015 it was reported that even mid-week live streams attract more than 100 000 viewers. Top competition attracts full stadiums of people so the attendance already is almost as big as major sports events like Super Bowl, March Madness or World Cup.
Similar to sport competitions like tennis' ATP Tour, eSports tournaments take places in various countries, so it is popular worldwide.
The majority of eSports fans (56%) are 21-35 years old, while 36-65 year olds make 28%. So the industry is dominated by people who have the highest buying power. This is what makes pro gaming so profitable and attractive to investors (as sponsorship revenue already reached $350 million, which is 71% of all revenue).
eSports market in numbers: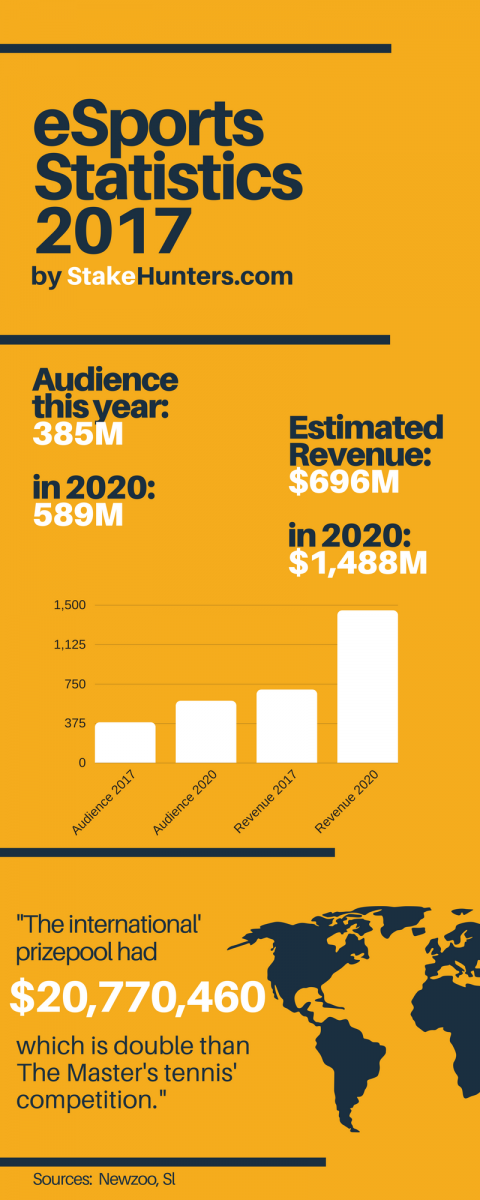 Teams and tournaments
If you are professional gamer, there is a good chance you already have a team that you are associated with. This is a clear advantage since you usually play in a team that often gets sponsorship for travel expenses, gaming hardware. Sometimes team members even get salary. Winnings your team makes are divided for every team member to an even splits.
In many terms, it is similar to being a pro athlete as eGaming requires you to be concentrated for a long time and test your physical longevity capabilities. Many players use or have used performance-enhancing drugs (PEDs) to boost their capabilities. However, at this moment there are no restrictions. Therefore, many players risk their health to win competitions.
The number of eSports tournaments is rapidly increasing. Traditional sports leagues like NBA have not missed the trend and NBA announced to open its inaugural NBA 2K eSports league in 2018. The current model will make 17 NBA team have their affiliate eSports team that will have a group of five professional gamers competing. It is expected to see team number increase soon and reach all 30 of league's teams.
eSports and betting
With the increase of eSports popularity, bookmakers took advantage and introduced eSports betting. To bet on gaming it fairly simple and similar to any betting experience. Although there are few slight differences that you may want to note.
First and foremost, there are not many data related to eSports betting, so often it is a good strategy to bet on the underdog team.
Second, there are not many events available to bet on as well as not many different games. It would be recommended for you to choose the game you want to bet on (DOTA 2, Counter-Strike, etc.).
Choose the right bookmaker. Top bookmakers now are the best choice:
Other things to know and consider:
There were fairly high number of accusations of match fixing. Like in any sports, this is an issue. And eSports is the place where one player can fairly easily make an impact to the result. This is the reason why underdogs win quite often. Keep that in mind. In another light, regulations became more strict and for the most of the time you can be certain the game will be fair.
There are 4 major games that you can bet on. Of course, sometimes you can get odds for other games as well, but the main games are League of Legends, Starcraft 2, Counter-Strike (CS:GO) and DOTA 2.
If you are new to the betting industry, you should learn about sports betting odds and their styles.
As well you need to understand bankroll management in depth.
Bet live. Some bookmakers offer this possibility and you can turn it into your profit by seeing some players tired. Remember what we said about the use of PEDs. If you can read some interview or see vlogs where you can get information about use of some substances, make it your advantage.
If you bet on CS:GO Live, read this quote from Pinnacle.
(this often applies on other bookmakers websites):
When betting on lines that are marked with "Full Buy" such as Natus Vincere (R04, Full Buy) vs Virtus Pro (R04, Full Buy), you are betting on who will win the round. The "Full Buy" is a condition that must be met in order for wagers on the round to stand.

For example, when wagering on Natus Vincere (R04, Full Buy) vs Virtus Pro (R04, Full Buy) you are betting on which team will win the fourth round. However, all wagers on the round will be cancelled if one of the two team does not make a "Full Buy".

A "Full Buy" is defined as follows:

At most one player on each team starts the round with a primary weapon worth less than $1000. The weapon does not need to be bought by the player themselves but can be given to them by a teammate.
Types of bets can differ:
Traditional moneyline bets. It is when you bet for certain team to win.
In game events. These events typically depend on game which is played. In League of Legends it can be a bet which team gets "First Blood", manages to defeat Baron Nasor first. Will the math have a Pentakill? Every game has its in game events, so you should have in depth knowledge of the game to successfully bet.
Special bets/future bets. Traditional bets or special for some events. These bets may vary greatly, so you have to pay attention what the bookmaker is offering.
A big plus while betting on eSports is the accessibility to streams. You have all the tools to gather information and start betting!