World Cup Betting - Top Goal Scorer and Team Top Goal Scorer
The World Cup in Russia is fast approaching and people are beginning to think about the bets they are going to place, especially as many domestic seasons are now drawing to a close. Over the couple of weeks, the teams involved play friendlies to get themselves ready for the tournament, and these are often very informative and well worth watching. After the squads have been announced you can start to look through them and pick out who you think will score the goals for their nation at the tournament.
Betting on both the tournament top goal scorer and each individual team's top goal scorer is a great way to get involved in the tournament, and for small stakes, you could win a large amount of money if you strike lucky. If you have never placed a bet on these markets before, here is a guide on how to use them and what they can offer you during the tournament.
Tournament Top Goal Scorer
This is a very popular bet that many people will have placed before, but if you haven't then it is a great market to get involved with. When placing a bet on the market you are trying to correctly predict which player will score the most goals at the Russia 2018 tournament. The market is open for both win and each way bets, with each way usually covering the first four or five goal scorer, but each bookmaker will vary so be sure to check out the each way terms on offer.
If this is the first time you have placed a bet on this kind of market, then here are a few things to look out for to help you choose who you want to back this summer.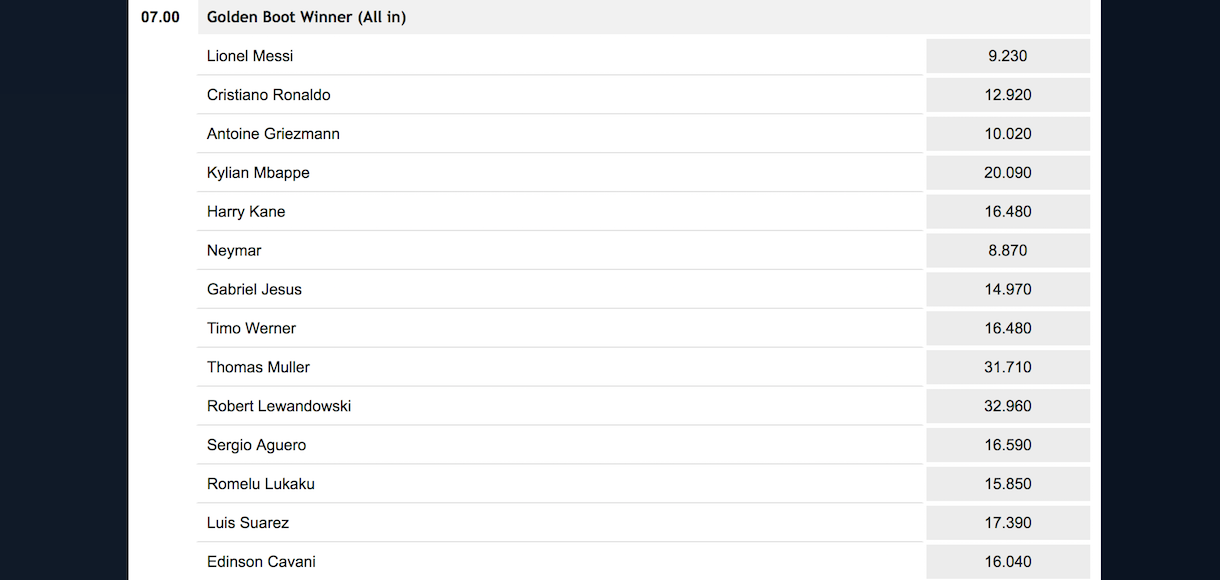 *Favourites from Pinnacle June 03
Choose a Player Who Will Go Far
The more games a player has the opportunity to play in at the tournament, the more chance he is likely to score goals. With this in mind, it is important that you choose a player who plays for a team that you think are going to do well. If you back someone who is eliminated in the group stages, they will only have had three games to score enough goals, while someone who reaches the final and plays in every game will have had seven games.
The basics of this is simple, more games played equals more chances to score. While a player who only plays four games may have the chance to win this year, it is not to happen as a player who has the chance to play in six or seven games.
Compare the Group Draws
When looking at who to back, take a look at the draw they have been given in the group stages. At this stage, the big teams will often have at least one easy game where they may score three or four goals against lower opposition. These games can often be where a player will win the golden boot, by scoring two or three goals to give himself a big boost in the standings.
When the competition moves into the knockout round, you will often see many games where tow good teams are going head to head. In World Cup football these are often tight and low scoring games as both teams put a lot of emphasis on not losing the game. Therefore just the odd goal can decide these a lot of the time, and no one has the chance to score two or three goals. That makes it hard for these players to bridge the gap if someone has scored a few in the group stages, making the group draw vitally important.
Team Top Goal Scorer
Alongside backing who you think will be the overall top goal scorer in the tournament, you can also bet on who will be the top scorer for an individual nation, and bookmakers will price up every nation before the World Cup begins. This can often be a great market to look at for numerous reasons, and it works in exactly the same way as the outright market, but only includes players from the team you are betting on.
One way of using this market and giving yourself an interest in a lot of games is to back multiples on this market. For example, if you pick out four players that you think will do well then you could place a Yankee on these four players, giving you a big interest for a small stake. Should all four of your players finish as their team's top scorer, then you are going to have a huge payout from this bet.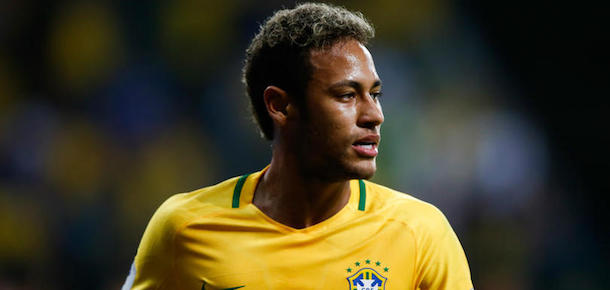 Cover Bet for Tournament Top Scorer
This market is great to place a cover bet if you have backed someone to be the top tournament goal scorer. Backing them to be their team's top scorer will be at shorter odds, but if they do that and just fail to be the top tournament goalscorer then you will have covered your bet on that. One of the advantages of using this market is that if your team is eliminated early you may still win, as the players will all play the same amount of games.
Look out for Set Piece Takers in Low Scoring Teams
If you think a team is going to struggle and only score a couple of goals then you can use this prediction to your advantage with this market. If a team has a set piece taker that is not an attacker, you can back them at a big price to be their top scorer because the strikers are pretty much always the favourites on this market. If you think they are only going to score two goals in the entire tournament, there is a good chance that one of those could come from a free kick or penalty, which would give your player a chance to win on this market.