Find Value with Favourite on the Half Time Full Time Football Betting Market
A lot of people will pick out a football team, before finding them to be too short a price to back, either forcing them to miss out on backing that team or put them with others in an accumulator. The alternative to this is to find a different market to use where you can back the team at a bigger price because the bet you are placing has an additional element attached to it. One area you can take advantage of is the half time full-time market, which allows you to back a team at a better price than in the standard 90-minute betting market.
What is the Market, and How Does it Work?
The half time full time betting market is one of the oldest football markets out there, but since other new markets have been discovered, many people have forgotten just how useful it can be. Some younger punters may never have placed a bet on the market before when older punters will remember it being one of the best ways to find value when backing long odds-on shots.
Despite being an older market and not having the appeal that some newer markets have, this is a good market to bet on, and one that can improve your betting profit, so make sure you use it to your advantage.
There are nine different possible outcomes on this market, and one of the nine outcomes must win. This means the market is a lot more limited than a correct score market or other ways in which you can bet at better odds. When placing a bet on the market you have to predict what the result will be at half time and what the result will be at full time. You need to get both correct for your bet to be a winner, and the nine possible outcomes that you can bet on are listed below.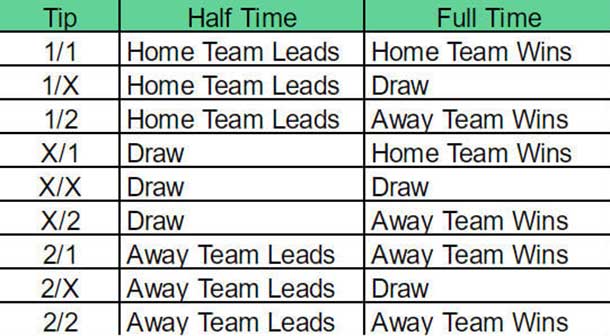 As you can see from above, there are no score predictions involved, all you have to do is use the market to your advantage when you are betting, to give you value.
Backing Favourites to Win Half-Time and Full-Time
The best way to take advantage of this market is to enhance the price on a favourite you fancy, enabling you to back them. You have to add an additional element to your bet when you use this market, and that is that your team must be winning at half-time, as well as full time for your bet to win. However, if you strongly fancy your team to win, and they are long odds on then they should be in full control of the game, making a goal in the first half something that is likely to happen.
The difference in price between backing a team to win the game and backing the same team on the half-time/full-time market is very big, and something that certainly makes this market worth looking at.
For example, a team priced up at 1/2 to win the game in 90 minutes would be priced up at around 6/4 to win the game at both half time and full time. To put that into money terms, 20 at 1/2 would return 30 including your stake, while 20 at 6/4 would return 50 including your stake. That is a big difference and something that cannot be ignored. This could be what increased your betting profit and gives you a way to build up more funds from the bookmakers.
The prices on offer and the potential extra profit should make sure that changing to the half-time full-time market is the right way to go for you, although of course, you will have losers that sometimes would have won on the standard 90-minute betting market.
Other Ways to Take Advantage of the Half Time Full Time Market
Those who bet on draws will also use the half time full-time market to give them extra value when betting. This is especially the case when a game looks like it will be low scoring, and 0-0 is a possibility. If a game finishes 0-0 then the game will also be a draw at half time, and a draw at full time, meaning the draw/draw bet on the half time full-time market would be a winner.
To show the differences in price using this method, a game that is priced at 11/4 to be a draw would be priced around 11/2 to be a draw at both half time and full time. To show how this compares with money, 20 at 11/4 would return 75 including stake, while 20 at 11/2 would return 130 including stake back, a big difference.
In Conclusion
The half time full-time market is one of the oldest alternative football betting markets available for punters. This market has stood the test of time and is still profitable to use now, even though many other markets have been brought in by the bookmakers.
When you are backing a team to win who are a short priced favourite to do so, this market really comes into its own. The market gives you great value, and providing the team you are backing is winning the game at half time as well as full time, your bet will be a winner. When backing an odds-on favourite, you will be expecting them to dominate the game, and that means they are likely to score a first-half goal. Should that happens, you are likely to be onto a winner, and one that will give you a bigger return than what the standard 90-minute market would do, enhancing your betting profit.
Free tips, odds, the best tipsters and advices. Join us and be part of The StakeHunters Community!