How to Find the Best Tennis In-Play Bookmaker
There is a huge rise in the number of players betting in play, and this is on any sport not just with tennis. More and more people are being drawn in by the ability to bet during a match, instead of placing their wager before the game begins. Some people choose to combine both and place a bet both before and during the game, which is something that you can do thanks to the number of markets that are now available for punters.
What is In Play Betting?
In-play betting is when a bookmaker accepts bets on a sporting event during play. Tennis in play betting is very popular, and you will find many bookmakers offering markets on tennis in play. These markets are extensive, and often they are a combination of markets that you can bet on before the game begins, and markets that are specifically created for in play only.
Betting is done in exactly the same way, but beware when you are making your choices because the odds can fluctuate dramatically depending on what is happening on the court. For example, if a player breaks serve then expect to see the odds chance in that players' favour because of that.
Why Should You Bet In Play?
Betting in play is something that opens up a whole new part to your betting portfolio. There is a lot to gain from betting in-play, and your betting should only become more successful because of it if you use it in the right way of course.
When you bet in play you are placing your bets based on what is happening on the court at that moment, so it is imperative that you are watching the game take place. It doesn't matter what market you are using to bet, you are seeing real-life footage of the game taking place and betting accordingly. You are not reading the form book and looking at games played in the past, sometimes on different surfaces, you have the best possible form right in front of your eyes. With this available, you are putting yourself in a position whereby you have the best form book possible, and that is a position that should only see your betting profits rise.
There are certain things that can happen in a tennis game that have a huge impact on the result, but that you cannot predict. These are things like injuries and fatigue. By betting in play you can watch out for these before you place your bets, to try and give yourself more confidence about what you are betting on. Injuries can happen at any time out of the blue in a tennis match, but fatigue is a great one to look out for. If you back a player before the game begins, you have no idea if he is tired from his previous game or not, by watching a few games before placing your bet in play, you can get a feel for the game and how both players look.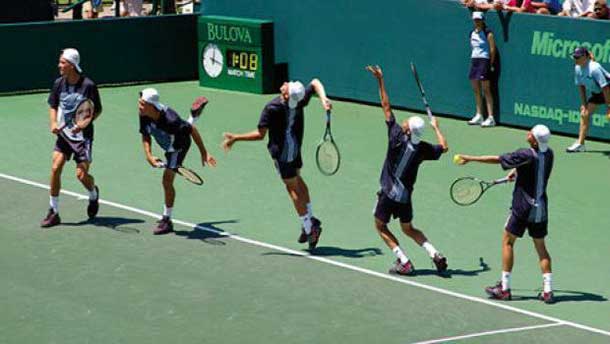 What Makes a Top In Play Bookmaker?
Whether you are betting in play for the very first time, or you are a seasoned pro, it is vitally important that you have a good bookmaker on your side. This will help you place the bets you want, bet on the games you want and some bookmakers even have streaming available, ensuring that you can keep your eye on all the action that takes place. Here is a list of things to look out for from the best in play bookmakers.
Number of Markets Available
You may only place one bet per game, and you may only ever stick to three or four markets when you are placing that bet, but it is vitally important you find a bookmaker that offers a big range of betting markets to choose from. This will allow you to explore other options, you don't have to bet on these straight away, you can try them if you like, but having multiple options in front of you is always the best approach. Don't place too many bets because of it, but always look at what is on offer, and try to find an angle that you can take advantage of when you are betting in play.
Number of Games Covered
Not all bookmakers will offer in play betting on all the games that are taking place, in fact, no bookmaker will offer betting on every single game. The task is to find a bookmaker that offers a large range of games, giving you as many options as you need when you are placing your bets. Some bookmakers will stick to the big names because they feel they know them and their games will attract the most interest. However, there are some bookmakers that will offer you a far more detailed service, and they will offer in play betting on minor games. If you have an opinion on these games, it is vital you find somewhere that will accept your bets on them.
Live Streaming
When you are setting yourself up as an in play gambler, the one thing in your favour is that you have the ability to watch a game and bet accordingly. Some games are on TV, but others are available via live streams. The best bookmakers for in play betting will offer you a live streaming service so that you can sit and watch the game unfolding while placing your bets with them. By watching the game you can read what is happening on the court and bet accordingly, without the ability to watch the game you are betting blind, which is a very dangerous game to play. Many bookmakers offer a live streaming service, but not all of them offer the same one. Look for a bookmaker with many different games available to watch, and also pay attention to any reviews you find about the quality of streams that are available.
Free tips, odds, the best tipsters and advices. Join us and be part of The StakeHunters Community!