EuroBasket 2017 has been nothing but a mix full of surprises, huge blow outs and, for some us, profit.:)
Therefore we shall look at teams that made it into Round of 16. How well those teams can fare? And where to look for value?
Good questions! And StakeHunters are here and willing to try to answer!
Germany – France
These teams are very different in terms of playing style and talent. France has not been playing like we would expect from this team's potential while Germany is getting the best out of their current players. For now it seems that Germans are few more years away from becoming one of top teams in Europe, while France are at the top. We would predict that France are going to improve throughout elimination phases and go further.
Due to German's defensive potential France probably will not be able to score their average 90 points in as crucial game, meanwhile Germans will surely depend on D.Schroeder.
Last time they met: 2017.08.27, France won by 6 – 85:79.
Key match-up: Dennis Schroeder – Nando De Colo. Both are very talented scorers and even though they play at different positions, both are crucial for team's success. The key difference here is that France has more offensive talent (and this means better opportunities for De Colo or Fournier to score), while Germany is really dependent on one player. Other Germans are mostly defensive players.
Odds (Bet365): 4.25 - 1.23
Spain – Turkey
Last time these teams met, Spain simply had an easy run. This time expect no different outcome. Even after some injuries and a lack of some talented players, Spain has way better roster, including key players who are brothers Gasol.
Meanwhile Turkey is experiencing a player change. This year young players like Cedi Osman and Furkan Korkmaz took over and were among top players of this team. Turkey is in a really poor situation, so we can be pretty sure that this Turkish team will not star in finals that are going to be held in their country.
Expect a high scoring game here, probably around 160 points combined because these teams play fast and attack the basket.
Last time they met: 2015.09.06, Spain demolished opponents by 27 – 104:77.
Key match-up: Pau Gasol – Semih Erden. No matter how good shots will be falling, the key will be to stop Gasol brothers. And Turkish front court will have to put their trust in Semih Erden. The veteran is in decline, but still he is having a decent campaign here plus he has a strong body that can protect the rim.
Odds: 1.02 - 12.25
Slovenia – Ukraine
Completely different teams in terms of playing style. Slovenia is fast, guard orientated team that can outscore opponents in stretches and sink many 3-pointers in a row. Ukraine is totally different team, playing in the post, not that confident further from the basket. Besides that, Ukraine has pretty poor guards and this results into poor scoring.
Slovenia should have an easy run in this game of Round 16. 10 points advantage at least.
Last time they met: 2017.08.13, Slovenia prevailed by 11 – 78:67.
Key match-up: no extremely important match-ups here. Ukraine's best player is center, Slovenia relies on guards.
Odds: 1.06 - 10.00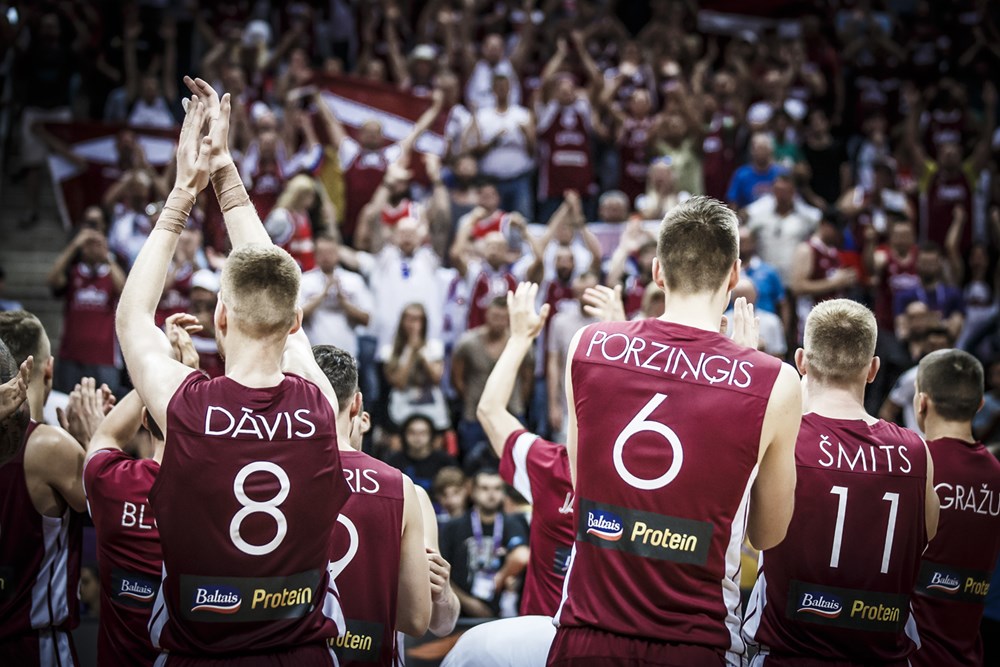 Latvia – Montenegro
This can possibly be one of the most intense games in Round 16. Both teams are very different. Latvians play open game with many 3-pointers while Montenegro is an example of European basketball classic. When these two styles meet, predict the unpredictable final result. Montenegro's strength is in their big men Nikola Vučevič and Bojan Dubljevič, plus Tyrese Rice'as gives an energy boost and confident one on one play from the perimeter.
Latvia has many more solid options but the game flow really depends on shooting. This game should be close, but it is hard to tell if this is going to be a scoring feast or a hard battle with low field goal percentage. Better avoid this one.
Last time they met: 2013.09.05, Latvia closed the game – 73:72.
Key match-up: Kristaps Porzingis – Nikola Vučevič. Both NBA big men are focal points of their teams but the most depends on Porzingis. In past games he had a tendency to collect quick and unnecessary fouls. If he continues to do that, Latvia's chances decrease. Latvia does not have strong, physical center and this means that Montenegro will do their best to attack from the post ups.
Odds: 1.30 - 3.65
Lithuania – Greece
Before the EuroBasket started, we all have heard about Greek chemistry problems. It seemed that there are problems inside the team and the first phase of the competition proved that. Although it was not so visible, results told more than any words could. Greeks were unprepared and no one was happy about the way they played. On other hand, Lithuanians seemed to get into shape at the right time but opponents were fairly week and we could not tell what this team is really capable of. Lithuania used their bench players a lot, some of them have not proved themselves even on average European level, but still managed to play well for the national team.
Last time they met: 2015.08.29, Greece won by 5 – 67:62.
Key match-up: Jonas Valančiūnas – Ioannis Bourousis. Both teams are pretty unique because they have deep rosters with many players who can bring a spark from the end of the bench but Lithuania's strength is in Valančiūnas, who has been dominant. Can Bourousis stop him? Will Greece's small ball make Valančiūnas not useful for Lithuanians? There are many unanswered questions. Lithuania and Greece are teams that can easily adapt (due to their rosters) and this gives them a chance to surprise opponents with tactical decisions.
Odds: 1.38 - 3.15
Croatia – Russia
These two teams are two surprises, as we saw during the competition. Croatians surprised everyone with their tough start against Hungary, Romania and Montenegro. Meanwhile Russians surprised many by beating Turkey and Serbia.
The key factor in this game is Russians' stamina. Two key players – Alexey Shved and Timofey Mozgov play lots of time, 30 and 25 minutes respectively. For some Mozgov's 25 minutes would not seem a lot, but the player is very active on the court and not very used to playing much time. They combine for 37 points (half of Russia's 75), therefore everything depends on these two.
Meanwhile Croatia has a deeper roster. Of course, key players are Dario Šarič and Bojan Bogdanovič, but Croatia has better bench players who could be a factor in this match.
Expect a high scoring match here since both Croatia and Russia have players who will not be shy to take their shots.
Last time they met: 2010.08.06, Russians by 2 – 66:64.
Key match-up: Alexey Shved – Bojan Bogdanovič. Both are scoring machines. The only difference is that Bogdanovič is more under control and Shved can overheat and start playing only by himself, be a ball hog that stops whole Russia's game plan. In order for Russia to have a chance, Shved should play no worse than Bogdanovič does and at this point this seems uncertain.
Odds: 1.44 - 2.85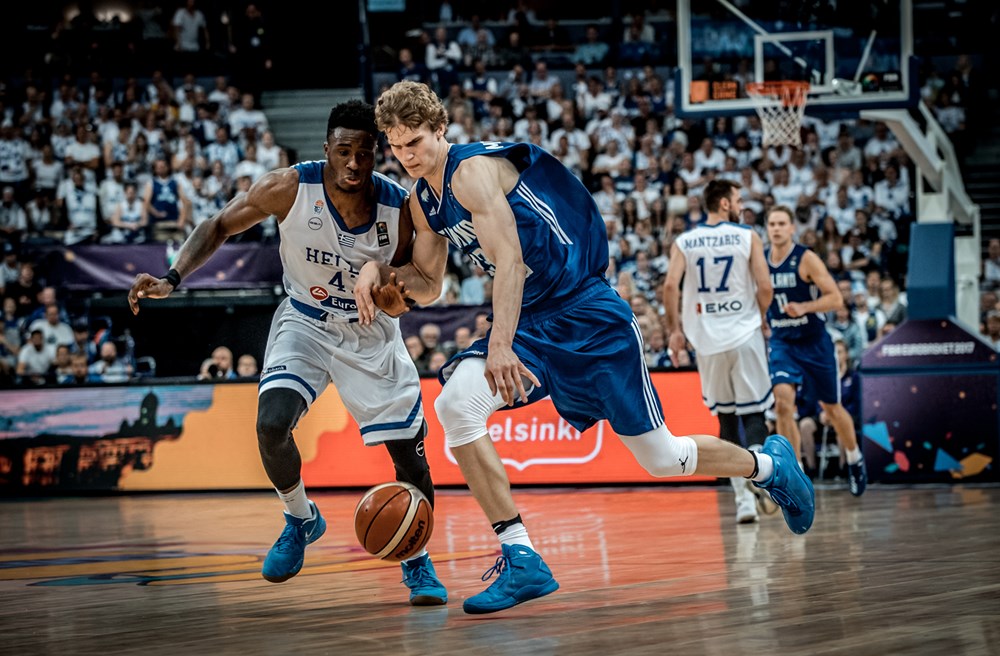 Finland – Italy
Finnish force has been up and rising in past six years. Before Petteri Koponen was joined by ex-NBA big man Erik Murphy, now team got a chance to add fresh to become Chicago Bull Lauri Markkanen.
And this made them competitive against anyone. The main difference between these two teams statistically was free throw shooting and 2-point field goals. Italy shot better from beyond the arc but the shooting percentage is pretty similar to Fin's. Simply Finland was a better scoring team with better around performance – they grabbed more rebounds, assisted more baskets.
Only thing that could go wrong for them might be a lack of energy since guards Koponen and Sasu Salin played 33 minutes each on average.
Right now it seems like the leverage might be on Finland's side but these teams are very reliant on shooting – Italy on 3-pointers, while Finland on 3-pointers and midrange shots, so the better shooting team will win.
Last time they met: 2017.08.11, Italy got ahead by 5 – 75:70.
Key match-up: no extremely important match-ups since Italy's best players are in SG and SF positions while Finland's are PG and PF/C.
Odds: 2.45 - 1.60
Serbia – Hungary
Hungary has already achieved a huge win and they are happy because they managed not only to compete, but to make it into Round of 16. This is a huge win for them and not many believe they can advance.
Serbia has few top European talents and experience that will be needed in this kind of match.
Last time they met: no information.
Key match-up: Bogdan Bodganovič vs Adam Hanga. Even though these players usually play in different positions but it is hard to find a reason why this should not be a match-up. Bogdanovič is a leading player in this Serbian national team and Hanga is very well known for his defensive talent. Expect David Vojvoda to take on opponents' small forward while Hanga tries to stop the leader. There is a quite good chance that Bogdan will score under his 19.8 points average.
Odds: 1.02 - 16.50