Since 2011 the top European basketball competition – EuroBasket – has increased its participant number by 8. Now the number stands at 24 (instead of 16).
So this year will have 4th championship with that many participants. Behind this number, there are various ideas and arguments. Some people tend to argue that the increased number of competing teams is no good for the overall level of the competition.
Meanwhile others seem to like the fact that this is good for increasing basketball popularity and giving a chance for countries that are smaller basketball-wise.
But what has changed? StakeHunters.com reviewed average margins of game scores in 2009, and compared it to the latest EuroBasket competition.
The system here is simple. If the point differential average is high (on both +/- sides), there is a very big difference between the level of the participating teams.
Please keep in mind that this is a hypothetical research as the championships compared were played in the span of 6 years. In such a long time, many other things, including the change of players, could have changed and these changes could have made an impact.
Below are the point differential stats from the first phase (group competition) of EuroBasket 2009 and 2015. In 2009, teams played 3 group games, while in 2015 teams played 5 group games, therefore the sample size differs.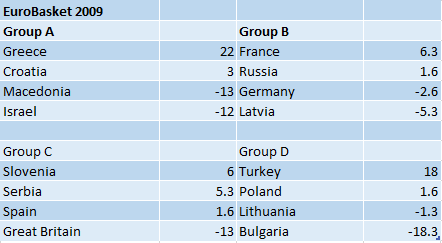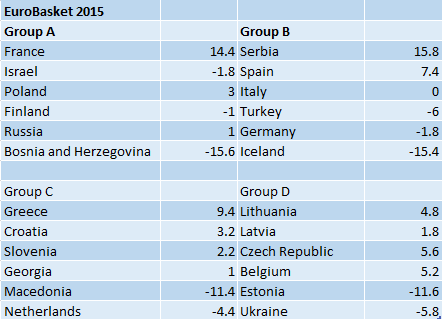 In the table above, we see average winning (or losing) margin, calculated by dividing points' +/- by the number of games played.
To see the level of strength differences, we compared average margins of the top team in the group and the one that had the biggest minus after the first phase.
The differential between best and worst teams in each group of EuroBasket 2009 was 25.4 points per game. Meanwhile, in 2015 the number was 24.8 PPG.
What can we gather from these calculations? It is pretty clear: score-wise, the level of the competition has not dropped.
Of course, it is very abstract and some might say these statistics can suggest that top teams may tend to play not full strength against some participants.
Just a quick reminder: this is all hypothetical since the sample size is too small plus every competition is different, as different teams may qualify for the next EuroBasket competition. For example, this year we will see the national teams of Hungary and Romania. If these two teams underperform, the scoring differential can increase.
Other reasons why it is better
To be frank, for those who are really into basketball and EuroBasket, it gets hard to follow every game because there more games, so this can be both an advantage and disadvantage. More games give us more chances to see underdogs succeed. This as well gives more chances to make good quality bets.
Another reason it is a chance to see some rising or already accomplished stars of smaller nations.
The increased number of participants partly became a reason to host championships in multiple countries at the same time. So this is good for overall basketball development.
You can think of many reasons, but these may be the main ones.
Other reasons why it is worse
For those who are into betting (and you certainly are), it gives unpredictability. It is hard to predict when one weak team can catch fire and play their best game in years.
Also, you need to spend more time analyzing more teams. Variance can increase highly.
And, well, you cannot buy one plane ticket and see whole championship without any more travelling.:)
To sum it up
There will be those that are happy with the change of participant number and there will be those who feel disappointment.
Actually, it depends on you. The overall game level is decent enough and we could not say that the level has decreased.
Just keep hunting!