Welcome, StakeHunters are here with the results of the past month. If you wonder whether an investment in betting can provide you a decent return, look no further than our great tipsters.
Consider this as a reminder and a proof how profitable sports betting can be – we have the stats for our top tipsters of December!
We split our top tipsters in three different categories, based only on free/paid or free and paid tipsters.
Let's see what we got this time!
It comes as no surprise that our paid tipsters outperformed free tipsters. Thanks to incredible month of Pariskk25, our top 5 combined for 527.7 units. If one unit stands for 10 EUR, you would have won 5277 EUR minus 91 EUR that you would have paid tipsters (5186 EUR profit in total).
Top 5 paid tipsters of the month (including only paid tips):
For comparison, last month our top 5 combined for 300.4 units. Nice improvement, right?
***
However, our free tipsters probably had too much rest during the holidays. Still, the results were pretty decent which could have made you 3400 EUR.
Top 5 free tipsters:
In total 340.3 units was worse compared to last month's 459.9 but let's this month will be more successful!
***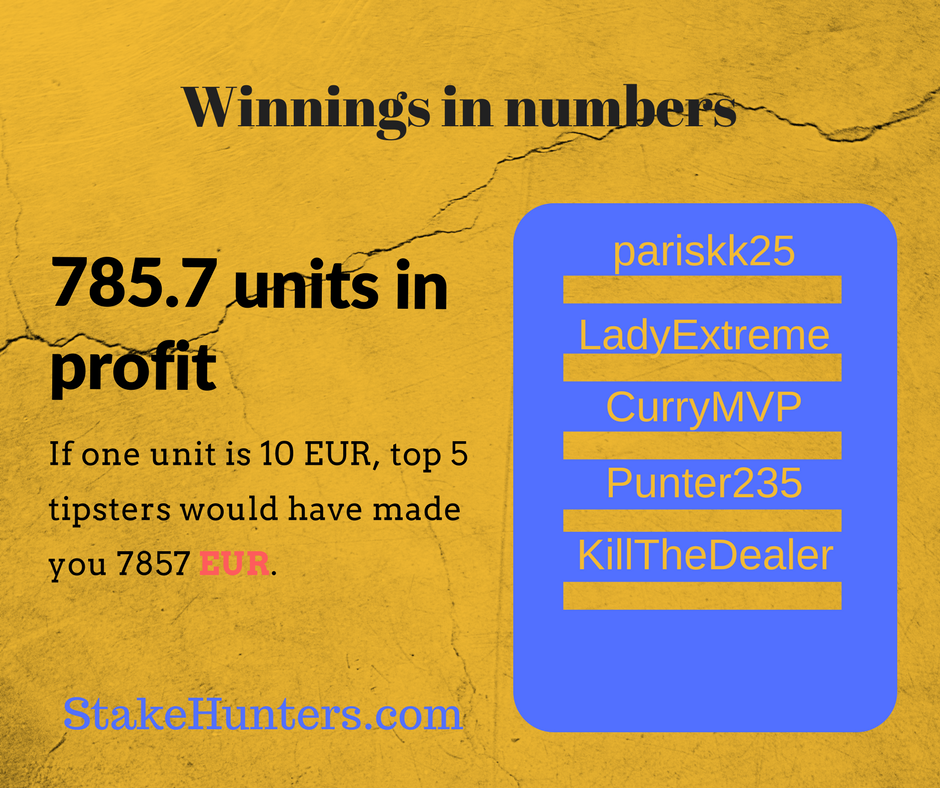 If you decided to use our best 5 paid and free tipsters of last month, it would cost you 72 EUR. In return, in December you could have increased your bankroll by 785.7 units! Once again, let's say one unit stands for 10 EUR. In this case your investment would have provided you with 7857 EUR.
Top 5 free and paid tipsters combined:
***
Still not using our paid services? Wait no more, tipsters @StakeHunters are doing their job. We help you to win.