At StakeHunters we see our work as a mission to help you succeed in this cruel and difficult world of betting.
Luckily, we have a great help from our great tipsters. And we have a proof of that!
Therefore StakeHunters presents top tipsters of November!
We figured out, you would appreciate a chance to know in detail, what earnings you could get if you use our top betting tipsters.
Top 5 paid tipsters of the month (including only paid tips):
These 5 tipsters combined for 300.43 units of profit. If one unit would stand for 10 EUR, then the winnings would be 3004.30 EUR – a decent number, right?
In order to get these tips in this case you would have to pay 112 EUR in total. This would decrease your winnings just slightly. All in all, you would have 2892.30 EUR in profit.
Please note that in this particular case we included only paid tips. Some of these tipsters had a great free tips record as well but you will find this out in more detail later.
***
Even bigger profit you could have achieved with our top free tipsters. They combined for 459.97 units:
Same as before – if one unit is 10 EUR, then the profit is 4599.70 EUR. Since these are our free tipsters, there are no monthly subscriptions and you can follow their tips and try to get the best out of it.
And, finally, if you want highest possible earnings, you should consider using both categories of our tipsters.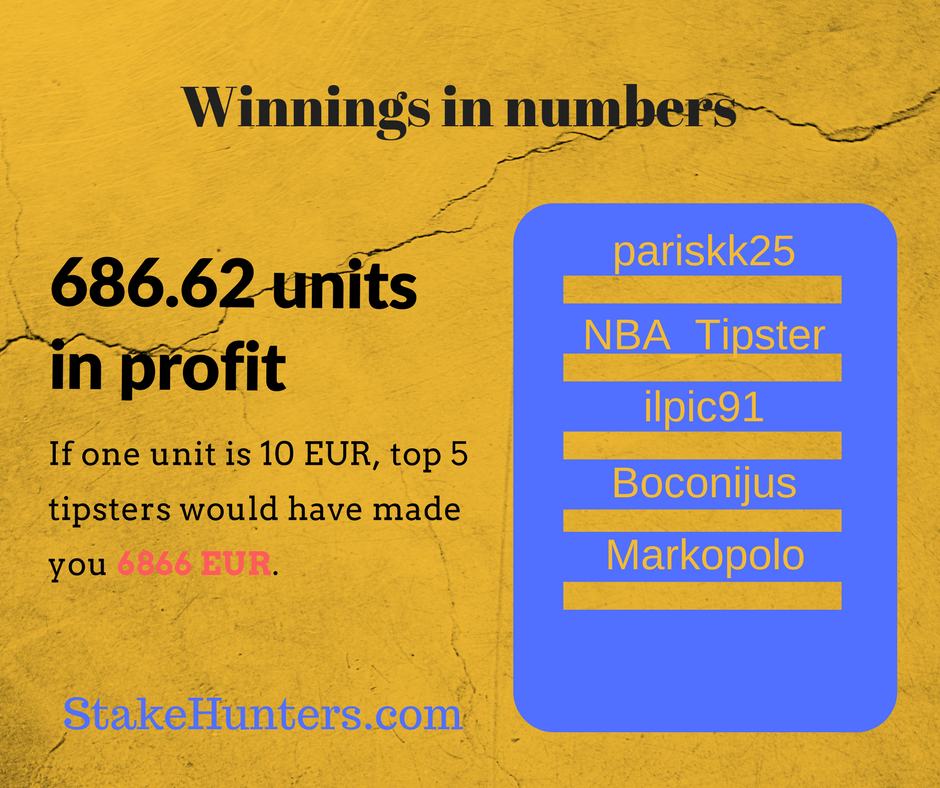 Top 5 free and paid tipsters combined have achieved a fascinating number of 686.62 units of profit. Following our previous logic, just multiply it by 10 and you get 6866.20 EUR. From this amount you would have to exclude only 34 EUR for pariskk25's and Markopolo's picks. This leaves us with 6832.20 EUR.
So if some of you are still wondering if it is worth to follow betting tipsters @StakeHunters, think no more. We help you to win.