We all know what it takes to place winning NBA wagers and the process of analysis basically can be very similar. The majority of you know how intense schedules and a lack of rest may affect NBA team's performance.
On the other hand, it is really difficult to measure these things and you may have some trouble defining all the factors that have an effect.
Luckily, here ESPN's NBA schedule alert 2.0 comes in handy. What it is, you may ask. To put it simple, we can say that the ESPN does us a favor and highlights games which can be highly affected by the circumstances of NBA schedule.
Last season NBA schedule alert 1.0 had a decent win rate – of 42 games, 29 had hit the jackpot. Furthermore, some games had been tagged as "red alert" games. These had 76.5% success rate since 13 of 17 games were predicted right.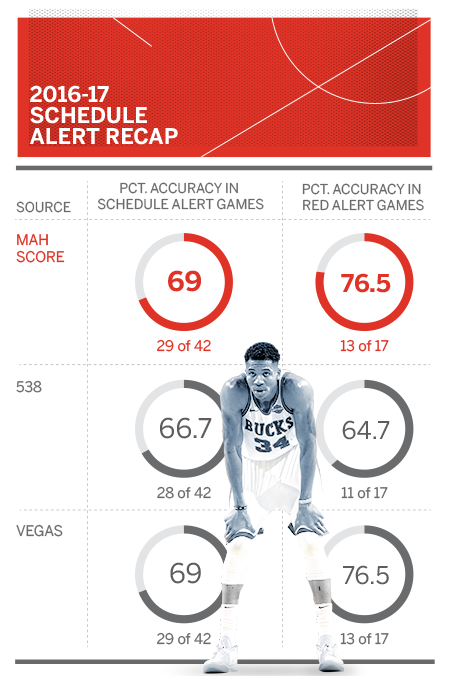 ESPN's infographic
These are very good results, so apparently it seems the prediction system had been working. And actually it NBA schedule alert 2.0 is really working as well.
The system has been improved and now is based on 10 seasons of data (12 000 games). The schedule alert for the current NBA season found 54 alert games, of which 9 are labeled as red alert.
In total, 27 teams have at least one schedule alert game and the Denver Nuggets lead the list with 6 games.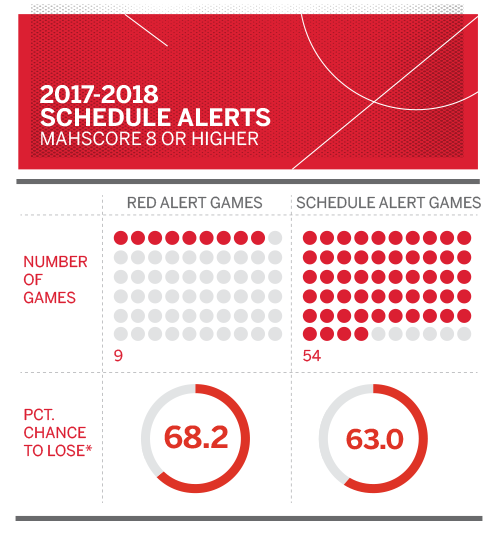 ESPN's infographic
Of course, do not trust these predictions blindly. At StakeHunters we recommend you to take into account important factors such as:
These predictions do not rank team's quality. Schedule alert ranks only schedule and possible fatigue. You should consider quality differences between the teams because sometimes a good team with tough schedule can easily win against weak team with an easy schedule.
Compared to last year, the number of schedule alert games has decreased. This is because of changes in NBA schedule. There is a belief that in the next few years NBA will make more changes fighting fatigue and schedule-driven injuries.
Do alert games analysis as you would always do. Collect injury information, think about teams' good or bad streaks. Schedule alert is only a variable that you should consider in order to lower your risks and get good return value.
Current NBA's schedule improvements are easy to see, although, as NBAPA (NBA Players Association) states, there is more work to do as these improvements are still not big enough.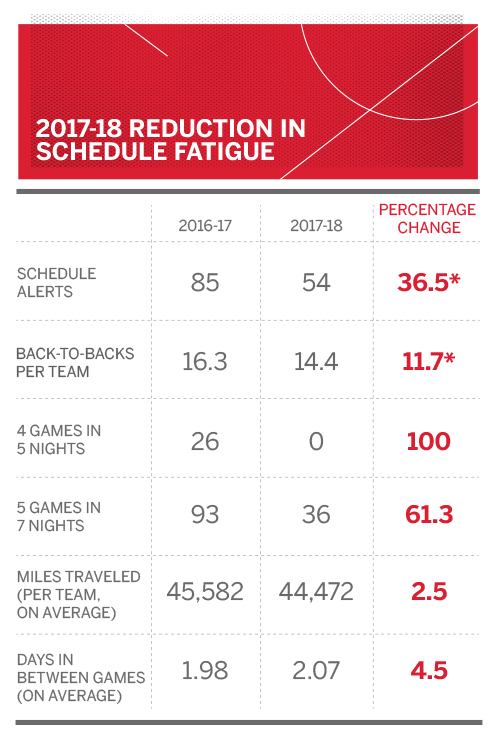 ESPN's infographic
Schedule alerts THIS SEASON
As of now, we have alert games list for November (ESPN will publish them every month). 3 games already have been played and all 3 of them turned out to be system's success.
Bucks lost to the Hornets 121-126, the Nets lost to the Nuggets 104-112, the Pacers lost to the Pistons 97-114.
The next game is the Rockets against the Pacers. The system tells us Houston is going to lose. Let's find out.
For all the alert games, visit ESPN's column.